NASSA Tartan
THE NASSA TARTAN: Making Fabric out of your Shetland Wool
by Kathy Baker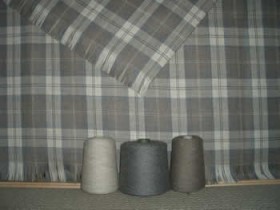 To showcase the beauty and versatility of naturally colored Shetland wool, Linda Wendelboe and Kathy Baker, gathered 100 lbs of raw fibre and had it spun then woven into 40 yards of 60 inch wide tartan fabric.
The fibre was processed into weaving weight 2-ply yarn at a local mill, Exotic Fibers of Canada. The 2 ply yarn was woven into fabric at Fraser and Kirkbright Weaving Co Ltd.
The tartan pattern was designed with the help of Fraser and Kirkbright. It is made of three natural Shetland colors: Medium moorit, medium grey and white/musket. You can see the design of the tartan or plaid in the picture below.
Linda and Kathy submitted a written proposal to the NASSA board allow the pattern to be called the NASSA Tartan so that it is available to any NASSA member wishing to make fabric for themselves. The tartan is not officially registered but the pattern will be held informally by Fraser and Kirkbright for exclusive use by NASSA members.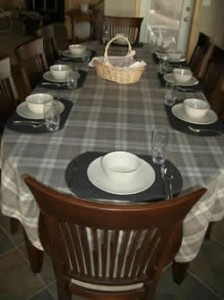 In order to have fabric made, a person or group would need to gather approximately 35 lbs of each of the three colors. Note that the medium grey and moorit colors can be made by blending lighter and darker fleeces to achieve a medium value color. Alternatively, different colors could also be used in the pattern. For the best fabric results, the raw fibre should be clean, sound or without fibre weakness and of uniform length. It is best to skirt and sort your fleeces well to get the best possible input fibre. The spinning mill may need to add a small percentage of nylon to achieve the best weaving quality yarn. To avoid polypropylene contamination of your fabric, it is best to avoid packing your fibre in woven feed bags. Instead try using burlap wool sacks, plastic bags or cardboard boxes.
Current prices and arrangements for making your own fabric can be made through Exotic Fibers of Canada. A portion of your fabric run may be left in 2 yard blanket lengths separated by an unwoven section which you cut apart at home. Exotic will work with Fraser and Kirkbright directly.
Now what you do with your Shetland wool tartan fabric is limited only by your imagination and creativity! My plans include a table cloth, booth curtains, vest and a coat.
Exotic Fibers of Canada
6012 – 3rd Street S.W. Calgary
Alberta, Canada T2H-0H9
Telephone: (403) 253-3172
Fax #: (403) 255-2641
E-Mail: bolexec@telusplanet.net
Website: www.exoticfibersofcanada.com
Address of MILL:
#7, 5112 – 47 Avenue, Innisfail
Alberta, Canada T4G-1P8
Fraser & Kirkbright Weaving Co. Ltd.
Factory: 1357 Powell St., Vancouver, BC V5L 1G8
Office: 2938 East 27th Ave., Vancouver, BC V5R 1N8
Tel: (604) 436-1951
Toll free fax: 1-866-877-8899
info@wooltartan.com
USA enquiries: 704-556-1555
sales@thescottishweaver.com
www.wooltartan.com/index.htm
22,073 views