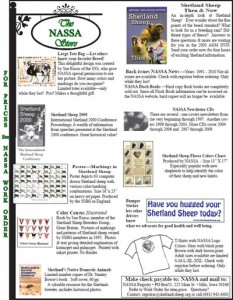 NASSA Merchandise
NEW for 2021 – T-shirts, hoodies, hats, and more, just follow this link:
nassaapparel.itemorder.com/sale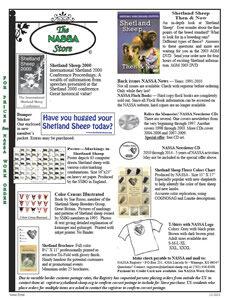 For the current selection of NASSA Merchandise, please refer to The NASSA Store Flyer.
For current merchandise pricing and order form, refer to the NASSA Work Order.
Or you can use our new Online Shopping Cart (below) to order items from the NASSA Store and check out using PayPal. Note: $8.00 will automatically be added to your order total to cover shipping.
IMPORTANT: If you are ordering from outside the United States or you are ordering multiple items, please check with the Registry Office (registrar@shetland-sheep.org or (785) 456-8500) to find out if additional shipping charges will apply to your order. If additional shipping is needed, please use the Pay Now button below to pay the additional charges:
Additional Shipping:
(After clicking the Pay Now button below, enter the amount in the "Price per item" box on the PayPal page)
Your Shopping Cart is empty

Slingbag Backpack
This Drawstring Backpack Bag will keep all of your valuables safe while keeping you looking stylish with its added pop of color. Made from 210-denier and adorned with a color-matched DUROcord drawstring, you'll love this bag's water-resistant fabric and durable yet lightweight construction. Fill it up and wear it on your way out of the house or keep it flat in your purse or pocket until you're ready to use. Size is 14″ by 18″.
$10.00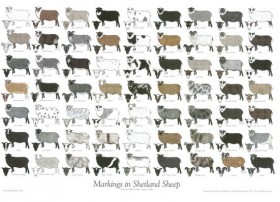 Poster — Markings in Shetland Sheep
Poster depicts 63 computer drawn Shetland sheep with various color/marking combinations. Size 16"x 23" on heavy art paper. Produced by the SSBG in England.
$15.00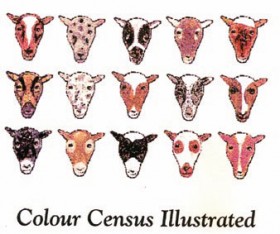 Color Census Illustrated
Book by Sue Russo, member of the Shetland Sheep Breeders Group, Great Britain. Pictures of markings and patterns of Shetland sheep owned by SSBG members in 1995. Photos & text giving detailed explanation of katmoget and gulmoget. Printed with inkjet printer. No Binder.
$27.00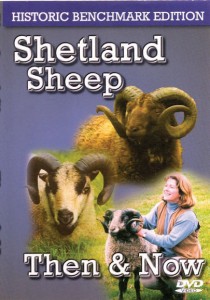 Shetland Sheep Then & Now
An in-depth look at Shetland Sheep! Ever wonder about the fine points of the breed standard? What to look for in a breeding ram? Different types of fleece? Answers to these questions & more are waiting for you in the 2003 AGM DVD. Send your order now for four hours of exciting Shetland information.
$10.00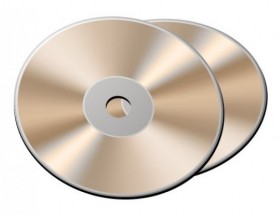 NASSA Newsletter CDs
There are several – one covers newsletters from the very beginning through 1997. Another covers 1998 through 2003. More CDs cover 2004 through 2006 and 2007 through 2009.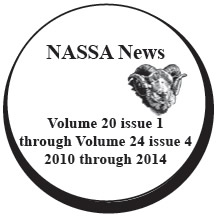 New! NASSA Newsletter CD
2010 through 2014
– 5 years of NASSA activities
$8.00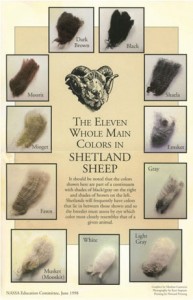 Shetland Sheep Fleece Colors Chart
Produced by NASSA. – Size 11″ X 17″
Especially popular with new shepherds to help identify the color of their sheep and new lambs.
$12.00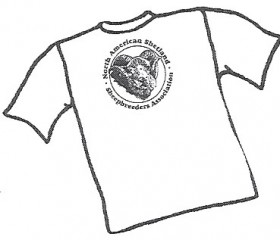 T-Shirts with NASSA Logo
Colors: Gray with black print or Tan with dark brown print. Adult sizes.
| | |
| --- | --- |
| $15.00 (S,M,L,XL) | $17.00 (XXL,XXXL) |

Shetland Sheep Bumper Sticker
Lets other drivers know what we advocate for good health and well being.
$3.00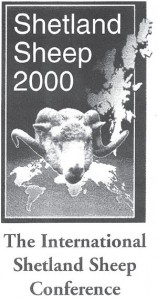 Shetland Sheep 2000
International Shetland 2000 Conference Proceedings; A wealth of information from speeches presented at the Shetland 2000 conference. Great historical value!
$14.00
35,573 views