PRE-SHOW PRESS RELEASE:
2014 ALL-AMERICAN JUNIOR SHOW BEING HELD IN HUTCHINSON, KS
The 2014 All-American Junior Sheep Show is going to be held at the Kansas State Fairgrounds, Hutchinson, KS from July 4-6, 2014. The All-American is the premier junior breeding sheep show in the country. The breeds participating this year are: Polled Dorsets, Horned Dorsets, Dorset Advantage, Hampshires, Southdowns, Cheviots, Columbias, Shropshires, Oxfords, Montadales, Shetlands, Natural Coloreds, Tunis, Dorpers and Lincolns. Several meat breeds will feature slick shorn classes once again this year at the All-American and new to the line-up is a show division for "Dorset Advantage" registered ewes and wethers. Judges for this year's event will be Evan Snyder, Atglen, PA and Travis Hoffman, Fort Collins, CO. The National Junior Southdown Show, National Junior Tunis Show and National Junior Natural Colored Show will be held in conjunction with the All American Junior show this year.
View the full press release (PDF)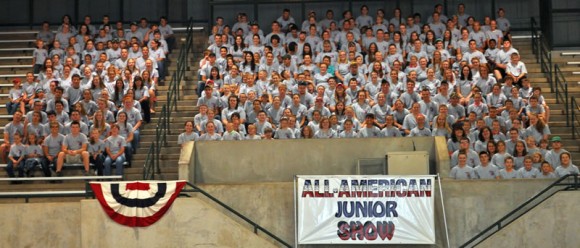 12,843 views